IM RC 80W AC 7AMP BALANCE CHARGER - LIPO - LIFE - NICD -NIMH - PB - iM011
SKU: iM011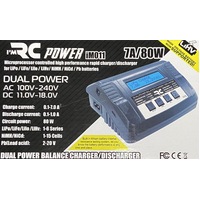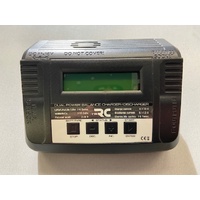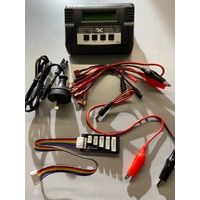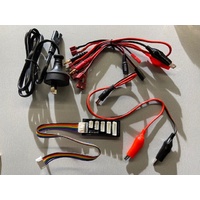 This item is due to land in Australia Early November 2019
IM RC 80W AC 7AMP BALANCE CHARGER - LIPO - LIFE - NICD -NIMH - PB
---
The iM R/C C607D charger is a simple yet powerful dual input multifunctional charger with built in LiPo balancing (JST-XH) for up to 6S Lithium batteries. It is packed with features that exceeds many higher cost units. Primarily designed for Lithium Polymer (LiPo, Li-Poly) batteries, it can also charge Li-Ion, Li-Fe (A123M1), Ni-Cd, Ni-MH, and Pb (lead acid) batteries.
Features
Capacity Limit
Maximum safety
Temperature monitoring
Input power monitoring
Easy to program buttons
5 battery memory
Individual cell monitoring
2-Line Back lit LCD display
Built in Balancer to 6S packs
Cycle charging/discharging
Includes "FAST" & "STORAGE" Li-xx programs
Product Details
Output 80W
Discharge 5W
Balancing current 300mAh/cell
Operating input voltage : 11 - 18V DC or 100-240V AC
Ni-Cad / Ni-MH : 1 - 15 Cells
Li-Ion / Li-Po / Li-Fe / Li-Hv : 1 - 6 Series
Charge current : 0.1 - 7.0A
Discharging current: 0.1 - 1.0A
PB / Lead Acid : 2 - 20V
Built in Cell Ballancer : Up to 6S (series) Li-Po (JST-XH connectors)
No. of Cycles : Up to 5 Cycles
Weight : 400g
Dimensions : 136mm x 127mm x 56mm
Includes
1 x Charger
1 x 4mm banana connectors to Dean connector cable
1 x Mains "kettle" lead with AU plug
1 x Manual
Be The First To Review This Product!
Help other HEI INTERNATIONAL users shop smarter by writing reviews for products you have purchased.
---
Others Also Bought
---
More From This Category