EARTECH COMMUNICATION HEADSETS - UL2S
SKU: UL2S-HD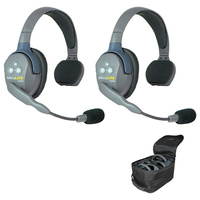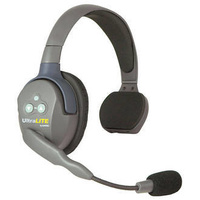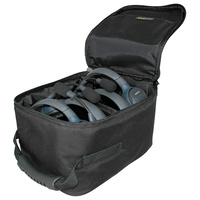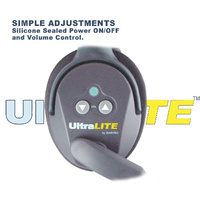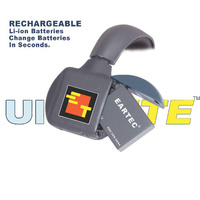 ---
**SERVICE ITEM ONLY** THIS ITEM IS NOT WHOLESALABLE TO MAKE MARGIN, WE HAVE THIS ITEM ON OUR HEI WEBSITE AS A SERVICE ONLY FOR PERSONAL USE AND PURCHASES - YOUR PURCHASE PRICE FROM HEI IS THE RETAIL PRICE. SORRY FOR ANY INCONVENIANCE
UltraLITE are breakthrough full duplex wireless headsets that provide hands-free, two-way voice communications. At the heart of these systems is a specialty "Master" headset that relays the digital signals generated by up to three "Remote" units. The resulting open line talking pattern allows up to 4 people to talk simultaneously without pushing buttons. To formulate your standard UltraLITE system select any combination of Double or Single ear headsets - up to 4 units.
Self-contained "all-in-one" design - Eliminates wires or belt-worn radios.
Wear on left or right ear - Mic boom swivels 270 degrees. Available in Double or Single.
DECT technology - Digital Enhanced Cordless Telecommunications.
Lithium polymer batteries - Provide continuous 6 hr operation.
No FCC licensing - Ready to go right out of the box.
UltraLITE Single headsets eclipse all other full duplex wireless for performance and convenience because the transceiver is built right inside the ear cup. This self-contained, "All in One" design eliminates headset wires and even belt worn radios. They provide simultaneous talk, two way voice communications for users that need to work with their hands yet also require one ear free to listen to what is going on around them.
The standard 2 port charging base comes with purchase of any pair of UltraLITE headsets. This smart charger includes LED indicators that turn from red to green when the corresponding battery is completely charged and ready to go. (Charge time is approx. 3 hours). The fact that the batteries charge outside the headset allows users to have spare batteries in the charger, so if necessary they can be changed out keeping your system up and communicating indefinitely.
Eartec's Standard Softside Case keeps your UItraLITE wireless intercom stored safely. Constructed of waterproof nylon material this compact headset bag / case features padded internal compartments so the headsets stay organized. In addition, there Is a pocket with Velcro closure for the charger and any spare batteries. The molded hard plastic handle makes transport easy and convenient for on location work. There is no better way to protect your investment in an Eartec wireless system than addition of this affordable, optional accessory.
Since UItraLITE headsets feature self-contained. "AII in One" design all electronics, even the battery, is installed in the headset plastics. The batteries are lightweight and about the size of a book of matches. They charge in about 3 hours, run for 6 hours and can be changed out in seconds. Since they are Lithium-ion, the batteries do not have to be drained after each use and will never develop a memory.
Specs:
Standard DECT 6.0 (Digital Enhanced Cordless Telecommunications)
Weight 4 oz
Channel Bandwidth 1.728 GHz
Modulation Type GFSK
Transmission Speed 1.152 Mbps (Baud Rate)
Duplexing Time Division Duplex (TDD)
Speech Encoding ADPCM / 32bit/s
RF Accessing Time Division Multiple Access (TDMA)
Range 400m in open space
Headset Power Supply Rechargeable Lithium 3.7 V/ 800 mAh 3.0 Wh
Charger Power Supply AC / adapter: OUTPUT 5.0V - 1 1000mA
Charge Time 3 hours
Operation Time 6 hours
Normal Condition of Use 0 C to 10 C
Storage Temperature -10 C to 60 C
Whats Included:
UltraLITE Single-Ear Master Headset with Rechargeable Lithium Battery
UltraLITE Single-Ear Remote Headset with Rechargeable Lithium Battery
Multi-Port Charging Base with Adapter for 2 Batteries
Small Soft Padded Case
Be The First To Review This Product!
Help other HEI INTERNATIONAL users shop smarter by writing reviews for products you have purchased.
---
Others Also Bought
---
More From This Category