HUDY EXCELLENT TIRE TRUER - FULLY AUT 1/8 1/10 1/12 - HD102003
SKU: HD102003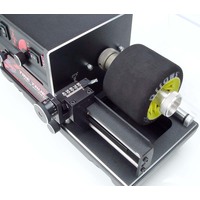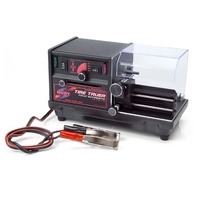 ---
HUDY EXCELLENT TIRE TRUER - FULLY AUT 1/8,1/10,1/12
Main features:
The world's best selling automatic tire truer is now better than ever!
We have incorporated a new tire width cutting adjustment, so you can now very quickly and easily adjust the width of the cutting area on the tire. The new cutting adjustment is controlled by an easy-to-use operating wheel.
New features:
• tire width cutting adjustment
• new transparent blue protective cover
• new universal tool holder for all classes – 1/8, 1/10, 1/12
• cutting tool installed
• delivered in exclusive alu carrying box
Standard features:
• the world's best selling fully automatic 12VDC high-end tire truer
• developed & designed by Hudy
• adjustable truing diameter (35-85mm) and truing angle 0°-2°
• regulated speed for fully automatic truing
• installed slave motor, gearbox, electronics, and connection cable
• new improved long-life collecting container for ground rubber
• fuse overload protection
• engraved unique identification number
Wheel Adapter not included, must be purchased separately. Click "Option Parts" to find the wheel adapter to fit your car.
Product update notice: please note that a new batch of tire truers includes 102066 Tire Cutter instead of 102067 Carbide Cutter.
Hudy Tire Truers are not only what professional racers world-wide demand, but they are also the brand of choice for home-based racers. What makes Hudy Tire Truers superior is the philosophy used in their design, development, and test and production phases. To design our tire truers, our engineers use the most advanced 3D CAD system to ensure the best possible performance. Then, computer controlled CNC machines produce the parts to highly accurate specs from high-tech alloys. After assembly, every single truer is individually tested under extreme race conditions, and undergoes rigorous, top-quality control inspection by specially-trained technicians. When the truer passes the test, it is assigned a unique identification number and Hudy signature that ensures 100% reliability and unsurpassed quality.
Factors like comfort, safety and easy of use are primary design concerns during development and production of any piece of equipment by Hudy. Every tire truer we manufacture, right down to the set screws, is designed and assembled with pride and care. That's why there are tire truers in every pitbox made by Hudy.
| | |
| --- | --- |
| SKU | HD102003 |
| Barcode # | 8581701020037 |
| Brand | HUDY |
Be The First To Review This Product!
Help other HEI INTERNATIONAL users shop smarter by writing reviews for products you have purchased.