Hobbytech S2 RTR 4WD Brushless Buggy
On: 11 May 2023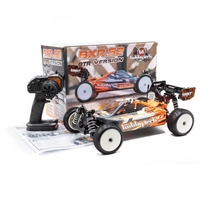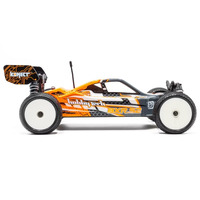 HOBBYTECH 1/10 RTR Brushless Buggy 4WD Hobbytech BXR.S1 - HT-BXR.S2.RTR
Our new BXR-S2 is a totally new platform, its chassis structure has been thought and designed to be capable to compete at the pro level.
When we designed this new car, we were thinking « how to make a 1/8 scale resistant buggy layout into a smaller scale? ». The BXR-S2 is this result.
And, as you can see, it is very similar to the current 1/8th buggy's setting-up.
Disclosing from the box, a front and rear differential and an adjustable center slipper equipped with big bore fully aluminium shocks, steel front CVD's and steel dog bones transmission.
A strong aluminium chassis and high racing sides guards guarantee the car a very high durability. A waterproof 50Amp esc and a high speed sensorless 3652 4600kv provide to the car an incredible speed potential.
Simply the best RTR brushless car in the market !
Dimensions
Height : 148 mm
Wheelbase : 273 mm
Front width : 248 mm
Rear width : 248 mm
Front ride height : 48 mm
Rear ride height : 48 mm
Weight : 1625 g.
Brushless Konect ESC 50A Waterproof KN-10BL50-WP Specs:
Specific 1/10 cars Brushless ESC
Sensorless brushless motors capable
Continue current : 50 Amp
Burst current : 300 Amp
Resistance : 0.0010 Ω
Max motor limit : 5500Kv (2S) and 3500Kv (3S)
NiMh input : 5 to 9 cells
LiPo input : 2 or 3 cells (max 11.1V)
BEC : 6v/3 Amp
Dimensions : 48.5x38x32mm
Weight : 90g
Over-heat protection
Programmable with Program Card (not included)
DEANS plug

Brushless 1/10 Motor Konect KN-3652SL-4600 4600 Kv Specs:
8.4V Ni-MH and 2S Li-Po capable
Dimensions : Φ=36mm – L=52mm
Shaft : Φ=3.175mm – L=15mm
Resistance : 0,0059 Ω
Poles: 4
Amp : 3,9A
Weight: 200 g
Inside the box :
• 1/10th BRX.S2 Buggy RTR version with stickered body
• KT2S+ radio system
• Instruction manual
Not included :
LR6 (AA) batteries (4 pcs)
7.4v Battery
Charger
R/C specifics tools
---
Leave a comment