2018 EP Offroad Nationals Race Report
By: Nick Saxton On: 8 October 2018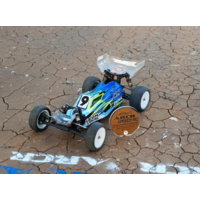 Well, what an awesome weekend at the 2018 1/10 off road nationals in Adelaide
2wd Day- we turned up at the track at 7am and the sun was shining on the track heating it up for the first qualifier, I made a few changes in the practice days to my shocks, and the rear end to give it more rear grip.
After 4 qualifiers I ended up 9th overall going into the finals, so I gridded up P9 in the A Main which I was super happy with, after a 7th, 9th and an 8th I finished 10th overall on points.
My Xray XB2 was on rails all day on my proline holeshots on the rear and proline transistors on the front.
4wd day- we turned up at the track at 7am and it was a bit cloudy so the first qualifier the track was a bit greasy, in the first qualifier I had a bit of bad luck with a ball stud popping off, in the second I went a lot better after making some changes to the suit the conditions but not good enough finishing 19th for the round,
In the 3rd qualifier I went better again finishing 14th for the round.
In the 4th qualifier I had to get a good result to try and make the a main but it was hard to get through traffic in the c class.
I ended up P10 in the b main, I was able to get up to 5th in the first race which gave 6th overall, my Xray XB4 was going great after the first qualifier after the changes I made but I just kept making mistakes and traction rolling which ended in a bad result
My Proline rubber was on rails all weekend with minimal tire wear in stock.
Thanks to Luke Rich from BLR designs for my awesome body's and stickers
Thanks to Ari Bakla and mark young for the set up help
Thanks to dad for all he does in the pits making sure my cars are ready for the race
And thanks to my sponsors
#TeamXrayAustralia #proline#muchmore#hudy#BLRdesigns