PROLINE HYRAX 1.9 G8 ROCK TERRAIN MOUNTED TYRES 2PCS - PR10128-10
SKU: PR10128-10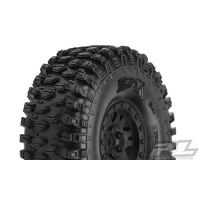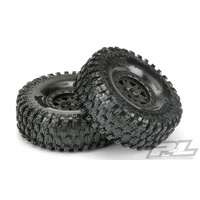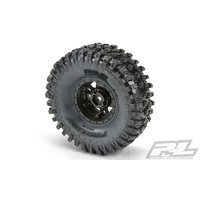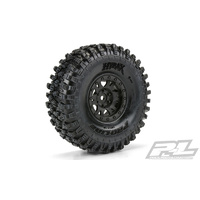 ---
This is a pair of pre-mounted Hyrax 1.9" Tires. The future of 1.9" Tire Performance has arrived with Pro-Line's all-new Hyrax Tire! Designed from the ground up for maximum grip on the toughest terrain, the Hyrax tire is ready for anything your Scale Adventure might throw at you. The Hyrax features an aggressive and open tread pattern with each tread block containing multiple Sipes for incredible tread flex. The highly detailed connected tread on the sidewall of the Hyrax extends out for unmatched side-hilling performance. The Hyrax also features futuristic stepped tread blocks that create even more forward gripping edges that dig into slick rock like no other scale tire Pro-Line has produced to date! The Hyrax is made from Pro-Line's Legendary G8 material, so you know it provides performance you can depend on.
The Hyrax 1.9" tire comes conveniently pre-mounted to our Impulse Black Plastic 1.9" wheels that are Proudly Made in the USA! These all-new Impulse wheels are designed to not only look scale but to be super easy to use by only requiring 6 screws per wheel for mounting tires. The unique 3-piece plastic wheel design bolts together in the back and locks on to Pro-Line's incredible list of 1.9" Crawling Tires. The back of this 12mm hex Rock Crawling 1.9" wheel also accepts Pro-Line's Brass Brake Rotor Weights (sold separately) for additional looks and performance. The overall wheel width and wheel offset are the same as Pro-Line's line of 1.9" Aluminum Pro-Forge Wheels, so you know they will fit your truck and look good doing it.
Whats Included:
Hyrax 1.9" Tires Mounted on Impulse Black Internal Bead-Loc Wheels (2 pcs)
Fits:
1:10 Scale Crawlers and Rock Racers Front or Rear
Specs:
Height: 4.73" (120mm)
Width: 1.76" (45mm)
Tire Features:
All-new Ground up Design for Maximum Performance
Highly Detailed Sidewall for Scale Looks
Stepped Blocks & Multiple Sipes Create Unmatched Grip
Tackle tough terrain in Scale Style
Made in the Legendary G8 Material
Made in the USA, since 1982 - Read about Pro-Line Racing's History
Wheel Features:
Popular Impulse wheel style
Blacked out wheel color
12mm hex
3-piece Plastic Wheel Design Fits Pro-Line's 1.9" Crawling Tires
Molded in Bead-Loc ring and lug nuts for scale look
Wheel made from high-strength, durable DuPont nylon material
Accepts optional Brass Brake Rotor Weights
Made in the USA, since 1982
Be The First To Review This Product!
Help other HEI INTERNATIONAL users shop smarter by writing reviews for products you have purchased.